Club
Millennium Cup - second fixture
Wed, 04 May 2022 00:00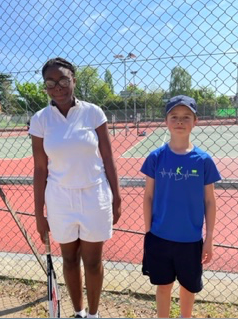 This was our second fixture in our Millennium cup campaign hosted by old foes Wigmore.
Frustratingly we lost 4-3 with two championship tie breaks (14-12 and 12-10) so couldn't have been closer!
Great debuts from Timo Aisling, Rebecca Goddard, Burnham Quail and Immo Clowes. Special mention to Burnham who played really well against a very strong and experienced opponent.
Two of our junior members (see above pic) represented the club brilliantly at the junior Millennium Cup tournament held at Grafton. Caren Crufer and Patrick Guerin battled it out with some very experience juniors showing great stamina playing 4 matches in boiling sunshine. Well done both - Telford is proud of you!
We have a bit of work to do to get into the final, but we can do it team! The next two fixtures are 15 and 22 May, both at home.